Yachao Chen | Teaching Assistant Professor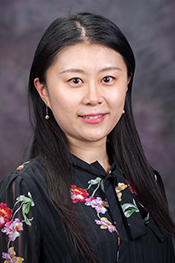 Ph.D., 2017 - Colorado School of Mines
Materials Science
B.S., 2012 - Dalian University of Technology
Materials Science and Engineering
Contact information
1016 Durland Hall
yachaoc@k-state.edu
Professional experience
Yachao Chen received her bachelor's degree in materials science and engineering from Dalian University of Technology in 2012. She then earned her doctorate in materials science from Colorado School of Mines in August 2017. From September 2017 to December 2018 she was a postdoc researcher at the Colorado School of Mines. Before joining K-State, she had been a process engineer at Microchip Technology Inc. since January 2019.
Research
At the Colorado School of Mines, Chen worked in an interdisciplinary materials science program where she focused on understanding the structure-property relationships of advanced ceramics, primarily in the Li-Al-Si system. She and her co-workers identified the pressure-induced phase transformation mechanism of LiAlSiO4 using a diamond anvil cell with in situ synchrotron X-ray diffraction and DFT simulations. She also explored the electrical properties of LiAlSiO4 at elevated temperatures. When working as a postdoc researcher her primary focus was on discovering novel piezoelectric materials in doped AlN systems using piezoelectric-force microscopy (PFM), nanoindentation and numerical calculations. This project was collaborated with the National Renewable Energy Laboratory (NREL) for combinatorial sputtering depositions. At Microchip Technology Inc. Chen had been in charge of metallization thin-film processing for semiconductor devices. She was responsible for sustaining existing metallization processes and developing new manufacturing processes to enhance product yields, as well as designing processes for new materials.
Academic highlights
Chen has authored and co-authored several peer-reviewed publications and given presentations on her work at multiple international conferences. She received the Graduate Excellence in Materials Science Diamond Award in 2014 in recognition of her outstanding achievements in materials science and engineering.