Chuancheng Duan | Assistant Professor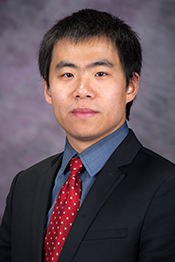 Ph.D., 2018 - Colorado School of Mines
Materials Science
B.S., 2013 - Dalian University of Technology
Materials Science
Contact Information
2016 Durland Hall
720-648-7886
cduan@k-state.edu
Personal website
Professional Experience
Chuancheng Duan received his B.S. from the Dalian University of Technology and his Ph.D. from the Colorado School of Mines, both degrees in materials science.
Research
His principle areas of interest are in advanced materials for energy conversion and storage, membrane reactors, electrochemical reactors, electrosynthesis, catalysis, fuel cells, electrolyzers and sustainable chemical manufacturing. At K-State he established the Materials Research Laboratory for Sustainable Energy with goals to understand the defects formation mechanism, investigate how defects can control electrical properties and electrocatalytic activity, and develop advanced energy materials and novel electrochemical devices to address critical energy and environmental issues.
Academic Highlights
Duan is lead author of articles published in Science, Nature, and Nature Energy. He was honored with the 2017 Ross Coffin Purdy Award from the American Ceramic Society for the most valuable contribution to ceramic technical literature published in 2015; the Rath Research Award for the Ph.D. dissertation that demonstrate the greatest potential for societal impact; and the 2017 Graduate Excellence in Materials Science, or GEMS, award, also from the American Ceramic Society, to recognize his outstanding achievements in materials science and engineering.