Ryan R. Hansen | Associate Professor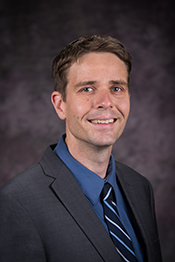 Steve Hsu Keystone Research Scholar
Warren and Gisela Kennedy Keystone Research Scholar
Ph.D. – 2008, University of Colorado Boulder
Chemical Engineering
B.S. – 2001, Colorado School of Mines
Chemical Engineering
Contact information
1017 Durland Hall
785-532-0625
rrhansen@k-state.edu

Professional experience
Ryan Hansen received his bachelor's degree in chemical engineering from the Colorado School of Mines in 2001. From 2001 to 2003, he worked as an associate engineer at Parsons Corporation in Denver, CO, where he developed analytical field tests for on-site soil contamination screening. In 2003, he began his graduate studies at the University of Colorado Boulder. His Ph.D. dissertation focused on developing photopolymers for biodetection applications. He received his doctorate in 2008, then, from 2009 to 2012, he went back to the Colorado School of Mines to work as a post-doctoral researcher. Here, his work focused on developing microfluidic devices as a clinical assay for diagnosing bleeding disorders. In 2012, he transitioned to the Center for Nanophase Materials Sciences at Oak Ridge National Laboratory, where he performed research in nanobiotechnology. In 2015, Dr. Hansen joined the department of chemical engineering at K-State as an assistant professor.

Research
Hansen's research group is focused on designing novel synthetic biological interfaces for characterizing microbial populations. Surfaces are developed using innovative approaches in microfabrication, polymer science, and surface chemistry. Within this research theme, his lab is currently developing interfaces for high avidity, high specificity capture and enrichment of bacterial pathogens to aid rapid, culture-free detection methods. His lab is also developing platforms for high-throughput screening, discovery, and characterization of pathogenic bacterial interactions occurring in root-associated microbiomes.
Academic highlights
Hansen has eight first-author publications and also holds three current or pending U.S. patents. As a graduate student, Hansen was a recipient of the Teets Family Memorial Fellowship in Nanotechnology and the Graduate Assistantship in Areas of National Need Fellowship. His graduate research was also recognized at an American Association of Cancer Research Conference in 2007. As a post-doc, Hansen was awarded an American Heart Association Post-Doctoral Fellowship. Upon his arrival at K-State, he was awarded the Kansas State Mentoring Fellowship Award.