Ryan R. Hansen | Associate Professor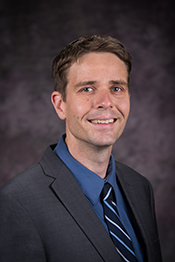 Steve Hsu Keystone Research Scholar
Warren and Gisela Kennedy Keystone Research Scholar
Ph.D. – 2008, University of Colorado Boulder
Chemical Engineering
B.S. – 2001, Colorado School of Mines
Chemical Engineering
Contact information
1017 Durland Hall
rrhansen@k-state.edu

Professional experience
Ryan Hansen received his bachelor's degree in chemical engineering from the Colorado School of Mines in 2001 and his doctorate from the University of Colorado, Boulder, in 2008. His doctoral dissertation focused on developing photopolymers for biodetection applications. He returned to the Colorado School of Mines as a post-doctoral researcher from 2009 to 2012, where he worked on developing microfluidic devices as a clinical assay for diagnosing bleeding disorders. In 2012, he moved to the Center for Nanophase Materials Sciences at Oak Ridge National Laboratory, where he performed research in nanobiotechnology. In 2015, Hansen joined the Tim Taylor Department of Chemical Engineering at K-State.
Research
Hansen's research group applies principles of chemical engineering, polymer science and microbiology to design novel biological materials, interfaces and soil amendments. His lab provides technologies that address sustainability in food, energy and water systems. Recent projects include investigating stimulus-responsive hydrogel materials for screening and separation of novel bacteria from environmental microbiomes, protective hydrogel coatings for functional bacteria and use of microbial soil amendments for promoting soil and plant health.
Research keywords
Biointerfaces, polymers, microbial biotechnology, sustainability, bioinoculants
Academic highlights
Hansen has authored or co-authored over 25 journal articles and holds five international or U.S. patents. His research has been funded by the National Science Foundation and the Department of Energy, and he is the recipient of an NSF CAREER Award. His research and teaching have recently been recognized through the K-State Alumni Award for Faculty Excellence in Chemical Engineering and the Carl R. Ice College of Engineering Outstanding Assistant Professor Award.