Keith Hohn | Adjunct Professor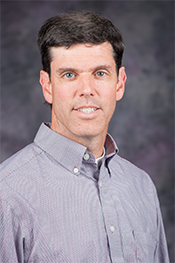 Ph.D., 1999 - University of Minnesota
Chemical Engineering
B.S., 1995 - University of Kansas
Chemical Engineering

Contact Information
hohn@k-state.edu
Professional Experience
Keith Hohn received his bachelor's degree in chemical engineering in 1995 from the University of Kansas and his doctorate in chemical engineering in 1999 for the University of Minnesota. He came to K-State in fall 1999. He was promoted to associate professor in 2004 and professor in 2010. In 2016, he was named the William H. Honstead Professor of Chemical Engineering.
Research
Hohn's research focuses on the use of heterogeneous catalysis for applications related to energy. This has included research on hydrogen generation, natural gas conversion, and synthesis of fuels and chemicals from biomass-derived molecules. Recent projects include the development of bimetallic Pt-Ni catalysts for conversion of heavy hydrocarbons to hydrogen via autothermal reforming, simulation of the performance of a three-way catalyst for treatment of natural gas exhaust, and development of acid-functionalized nanoparticles for hydrolysis of biomass-derived sugars. Recently, Hohn's research group has conducted pioneering work to develop 2,3-butanediol as a biomass-derived platform chemical to produce renewable fuels and chemicals. His research was the first to show that 2,3-butanediol can be converted to butene with high selectivity, offering a route to renewable fuels through further oligomerization of butene. He is also interested in using single molecule microscopy to explore catalysts and catalytic reactions.
Academic Highlights
Hohn has authored or co-authored more than 100 journal papers which have resulted in more than 1500 citations and an H-index of 19 according to Google Scholar. His research group has presented its research more than 120 times at national and international conferences and universities. Hohn has directed seven completed Ph.D. dissertations and four completed M.S. theses.
He has served the catalysis and reaction engineering and chemical engineering communities by chairing and co-chairing technical sessions at AICHE, ACS, and North American Catalysis Society meetings, serving as chair and vice-chair for the reaction engineering programming committee of AICHE, participating on multiple National Science Foundation review panels, and serving on the selection committee for the Othmer and McKetta awards from AICHE.
Hohn is the founding editor-in-chief of the open-source journal, Catalysts. He has received a number of awards, including the Outstanding Junior Scientist Award from the K-State chapter of Sigma Xi, the Dean's Award of Excellence for Research, The James L. Hollis Memorial Award for Excellence in Undergraduate Teaching, the Charles H. Scholer Outstanding Faculty Award, the Myers-Alford Memorial Teaching Award, the Segebrecht Distinguished Faculty Award, the Big Twelve Faculty Fellowship, and the Senior Postdoctoral Fellowship from the Research Council at Katholieke Universiteit Leuven in Belgium. Hohn is currently the William H. Honstead Professor of Chemical Engineering.